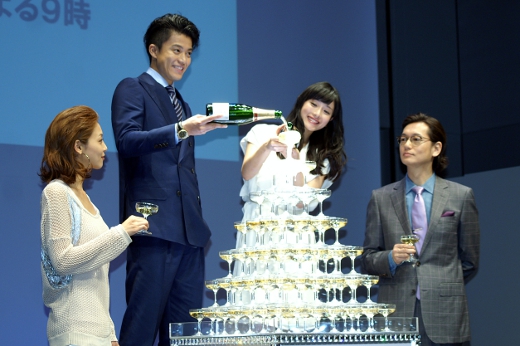 I've been talking a lot about drama from this season on this blog lately but I realised today that I haven't been talking about drama from the past very much so today I've decided to introduce 3 of what I believe to be the best drama of all time today. This post is mostly geared towards people who have just started getting into Japanese dramas this season, haven't really delved back into drama archives yet and are looking for some recommendations about what to watch.
Number 3: Hana Yori Dango(花より男子).
Okay so let's kick things off with a classic, Hana Yori Dango or "Boys over Flowers". There's a Korean and Japanese version of this and I've watched both but trust me the Japanese version is easily 20 times better than the Korea one. It's a drama about an academy that only super-rich kids go to. The heroine of the series, Tsukushi Makino, attends the academy but is a bit different than most of the student body because her family is poor. They squeeze money from wherever they can to send her there. There is also quite a bad bullying problem at the academy, with the 4 richest students(called Flower 4, and nicknamed "F4″) at the top ordering all the other students around. Tsukushi had stayed pretty quiet up until one day where she openly makes a front against F4's bullying. As a result she gets 'red-carded" by the group and becomes a target of bullying herself. This drama follows her relationship with F4 and the surprising twists and turns of it – mostly the romances that develop from it. The cast features Shun Oguri, Jun Matsumoto and Mao Inoue in the lead roles. Like I said it's a classic, so definitely give it a go.
Number 2: Elite Yankee Saburo(エリートヤンキー三郎).
I would maybe barely call this a drama. The acting is awful, the storyline lacks depth and it occasionally has scenes with half-naked girls in it, but its HILARIOUS. It's about a not-so-normal High School student named Saburo(played by Hideo Ishiguro). He's always dreamed of enjoying the features of a normal high-school life: girls, friends and most of all peace. The unfortunate thing is that his two older brothers are both renowned for being massive Yankee(troublemakers). Saburo is sent to the same school as his older brothers' which is an all-male school so a third of his dream is already in tatters right from the start. But he can still make friends and have peace at school, right? No, not at all. As a result of his two brothers' bad reputation Saburo is labelled as a Yankee too and rather than wanting to be his friend, his classmates want to join his "gang" or challenge him to fights to take his "crown". Saburo is extremely weak at fighting but when he wets himself(usually in fear) his personality completely changes and he turns into an "Elite Yankee" fighting machine. I know this drama probably sounds ridiculous but if you watch it you will 100% get hooked!
Number 1: Rich Man, Poor Woman(リッチマン、プアウーマン).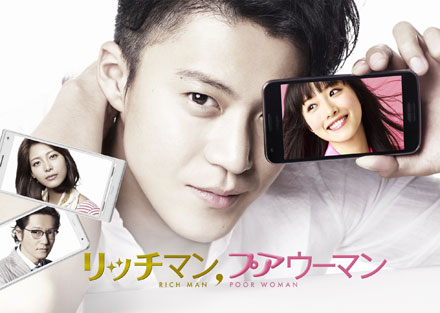 This drama was only just aired last year from around July and most people at the time just referred to it as "Rich Man". It details the story of a late 20's CEO of an I.T. Company, Tooru Hyuga. Tooru is not what you would consider a normal person, although he is extremely wealthy and very popular with women he has very bad people skills. He doesn't care about his money or girls, all he seems to care about is his company(Next Innovation) and creating new software or mobile applications. Tooru was abandoned by his mother as a child but has never come to terms with it, even after searching for her multiple times. One day him and his partner Asahina hold a 'Setsumakai' for their company to hire new employees and a girl from Tokyo University comes. Tooru decides that he will only hire people who have received two job offers from other companies, and when he finds out the girl from Tokyo University has zero he makes a spectacle of her in front of everyone – essentially calling her useless. She gets tired of being called "Tokyo University girl" so she tells him her name, "Chihiro Sawaki". This is also Tooru's mothers name. Why does she have his mothers name? Who is she? Is she related at all to Tooru's mother? These are all big questions that are answered in the drama. Oh yeah, Shun Oguri and Satomi Ishihara play the two big roles in this one. This drama is gold, don't even think about it – just watch it and you'll know what I mean!
So to wrap things up…
I hope this post was informative for anyone looking for some drama to watch at the moment. I can guarantee to you that any of these 3 drama are worth watching and I hope I succeeded in convincing you to give at least even one of them a watch. If you disagree with anything I've wrote or want to recommend a drama yourself go ahead and send a comment in below.