Over in Japan Google and Nestle are going to be collaborating together in a new promotion to celebrate Nestle's 40th year anniversary by releasing Android-themed KitKats. I think the release of the Nexus 7 Tablet is also somewhat related to this promotion as well. Anyway, it'll be kicking off in October this year nation-wide.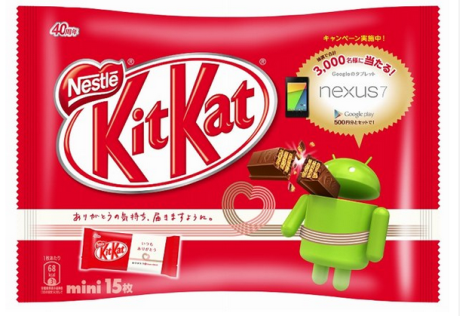 The campaign gives consumers a chance to win one of 3000 Nexus 7 Tablets, which also come with 500 yen in Google Play credit. How do you enter? Ironically you actually have to send in 5 of the campaign marks that come with the candy's packaging when you buy it. You'd think that they would make entry for the competition electronic somehow considering it is Japan and it is 2013 and they are backed by Google but I suppose they didn't want to cut out that huge audience of weird, twisted people who don't own computers, cellphones or tablets. If you feel offended about this remark please go ahead and vent in the comments of this post. Oh wait, if you fell under this category you wouldn't even be reading my blog. Never mind, business as usual.
The promotion won't be limited specifically to the special Android-themed KitKats either, there will also be three other KitKat products that will have the special campaign marks:
1. Nestle KitKat Mini(15 pack)
2. Nestle KitKat Otona no Amasa
3. Nestle KitKat Otona no Amasa Strawberry
Writing this post kind has made me remember just how many different flavours you can get of products in Japan. KitKats are actually a pretty good example of this. In Australia we only really have chocolate ones, the KitKat bars are a different story again but all flavours of them are still chocolate-based. In Japan I saw a huge range of KitKat flavours starting from Green Tea all the way to Passionfruit or White-Chocolate. I spent about 15 minutes just looking through product information on KitKat's official Japanese website, if you're interest yourself why not check it out?