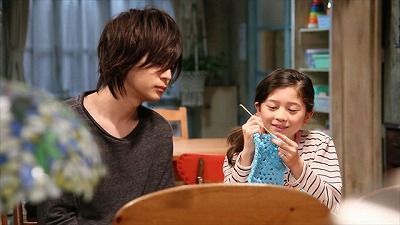 So for a couple of weeks now a new drama called Ashita Mama Ga Inai has been airing. It's a drama thats about children who have been taken away from there families(or were born orphans) that live in a children's shelter(or kind of like a limbo house I suppose) and are searching for foster families. I've watched Episode 1 of the series and Episode 2 aired this week. It didn't really hit the spot for me and that's why I haven't actually wrote anything about the drama until now but I saw interesting article yesterday about the dim situation the drama is undergoing with its sponsor companies at the moment. Or maybe I should say its former sponsor companies.
Not a lot of people or associations related to child abuse or child welfare are happy with this drama in Japan at the moment. In fact a lot of people are complaining about it saying that it doesn't accurately depict the situation of orphans or foster children and that the drama is too real. I remember in one of the scenes in the first Episode the owner of the limbo house says to all the children "you're all just like dogs and cats in a pet store". The complaints are so bad about this drama that even the sponsor companies have been receiving calls and letters about it.
When Episode 1 aired there were around 7 companies or so in the credits showing their company logos on the sponsorship board. Apparently when Episode 2 came around all of these companies were gone. In the first Episode a few companies had their commercials running in the breaks too but now all of those have been replaced by AC Japan commercials. Despite all of the controversy surrounding the series Nihon TV is refusing to take it down and made a comment on the 23rd saying that they intend to continue running the series until its final episode.
[adsense]
This is actually the first time I've heard of something like this happening for a drama. I think that all of these companies are going a bit overboard and I think the amount of complaints being made about this drama is ridiculous. It's a drama. It's fictional. Not once does it say that its an accurate depiction of the struggles of foster children/orphans. Why does drama need to stay within the bounds of reality? Why does it need to be accurate? And why does it need to tread carefully to try and not offend people? If you don't like it change the channel no one is forcing you to watch TV or specifically Nihon TV. I'm sure the drama could be changed to keep people pleased but then it would probably lose its soul and that's a heavy price to pay to keep people with too much time on their hands at bay. Anyway that's just like, my opinion. So if like, you have own too go ahead and comment below and tell me about it.