Domino's is running another collaboration campaign with Hatsune Miku starting from the 16th of this month. Their last collaboration campaign topped their origin sales target by over 5 times and actually won an advertising award. There are new pizza box designs, an update to the last promotions smart-phone application, and even two Domino's bikes that have been specially made with Hastune Miku decals for the promotion. Anyway read on for more details and pictures.
Basically you download(or update) the application from your phones App Market and if you order a pizza using the application between 7/16 and 7/21 you receive a 39% off coupon. There's also plans to present tickets through the application for the Hastune Miku concerts that are going to be held this summer in Osaka and Tokyo.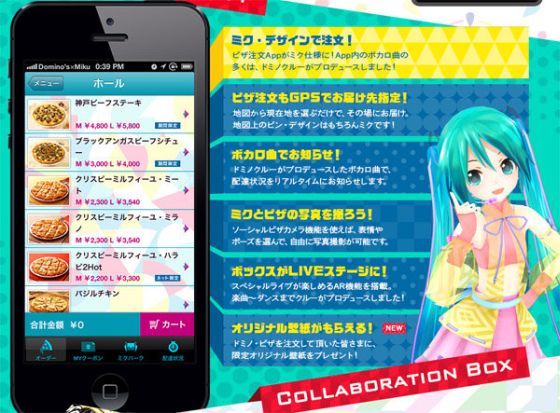 Even the pizza boxes have been re-designed. Apparently if you order a Medium or Large pizza using the application it will come delivered in one of these special boxes. This promotion will run until 9/30, or the boxes actually run-out.

And of course pictures of the bikes that I was talking about at the start of the post. Apparently there was already one made for the last campaign, and this is the one that has been designed specifically for the current campaign(No. 2). It doesn't specially say where but just that it will be delivering pizzas 'somewhere' in Japan.