You might remember that a little while I go I posted about some Japanese Twidiots who were bragging on Twitter about setting off fireworks inside a public telephone box. Well, there was another good article about some Twidiots on Amaebi when I woke up this morning so  I thought I'd write a little about it. This time around it was a group of what is believed to be Middle School or High School students who decided to brag about smoking at school on Twitter.
This is obviously a little less severe than the first article I wrote about the fireworks but at the same time it almost directly contradicts the praise I was giving to Japanese people yesterday in my post about Japanese people and their Facebook manners. The fact that they hardly ever brag on Facebook(or at least in my experience) is almost completely counteracted by how many of them needlessly brag on Twitter about doing really stupid shit. The usual pattern is that they brag about something they shouldn't be doing(at their job, their school or even maybe the supermarket?) and provide photo evidence of it in the form of a tweet. Great. But what happens if the photo is used against you? You're practically giving the evidence away to whoever wants to use it.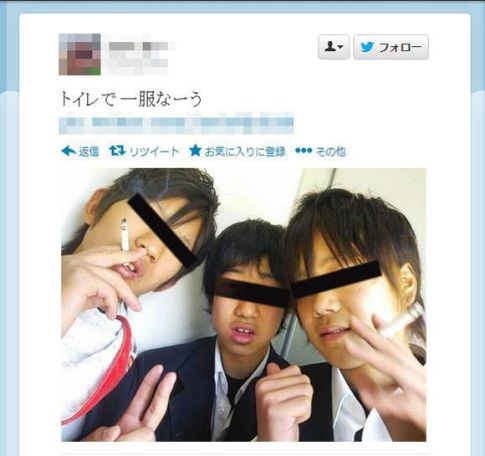 So what's the big deal about these little twats smoking? It's not such a big deal, apart from the fact that they are clearly not old enough to be smoking cigarettes by law and also the fact that they are clearly smoking them on school property(in the toilet in fact, according to the content of the tweet). This image has been spread across the internet and their are a lot of people concerned about it saying things like "Underage people shouldn't be smoking", "High school students? Come on…" or "Not again…". Some people are even concerned that the kid in the middle is being bullied, because he's not smoking at all and he just seems out of place considering what the other two look like.
So what usually happens with these kinds of things? Well, it doesn't really differ much from what would happen in the Western World. People with too much free time on Japan's 2ch will probably track these kids down and contact their school. They'll have photo evidence too. The kids haven't been identified yet but it's clear that a lot of people know the original Twitter account so I'd say that it's really only a matter of time before they get punished. What do level of punishment do you think they deserve? I'd personally like to see them get expelled. They're pretty much scum anyway.