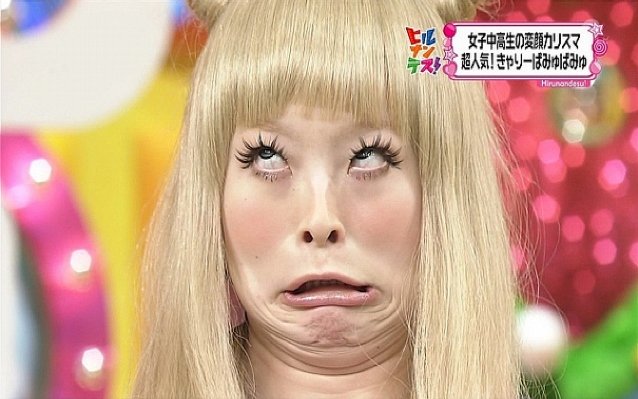 Kyary Pamyu Pamyu received some pretty strong criticism from her twitter followers on the 13th after a string of tweets where she detailed her phone problems and then, when it started working again, proceeded to jokingly describe her tweets as similar to that of somebody with a mental illness. Read on for direction translations of the tweets and a short discussion of the Japanese slang "Menhera"(メンヘラ).
The tweets started with:
「携帯がアップルマークのままフリーズして故障した。
なにをやっても起動されない。明日も遊びに行くのに連絡とれないやばい
パニックやばいどうしよう泣きそう」
"Oh my phones frozen on the apple mark! nothing I've done helps! I was meant to go hang out with somone today but I can't make contact with them, I feel like crying".  
Shortly after…
「たすけてええええええええええ」
"Help meeeee!" 
Then 10 minutes later…
「すいません携帯バグ治りました。
みなさんお騒がせしました。よかった!わーい!ひゃっほー!」
"My phone's fixed! Sorry for the drama! Yay! Woooo"
Followed lastly by:
「メンヘラみたい…」
"(I' m) like a Menhera"
Menhera or メンヘラ is Japanese internet slang that was conceived on 2chan's Mental Health board, it was originally used to describe people that frequented the board itself(ie. predominantly people with mental issues) but soon spread to other areas of the internet. Essentially it is now just used to describe somebody with a mental illness, but in most circumstances it is used in a negative context and more-or-less describes a person who exaggerates their illness and other problems to get attention from people.
Some of the criticism Kyary received in tweet-backs:
「さっき自分のことをメンヘラみたいと呟いていましたが、精神疾患の人は
好きで精神の病気になっているのではありません。馬鹿にするのも
いい加減にしてください。精神疾患と戦っている患者さんに謝ってください」
"Just before you described your actions as similar to that of a menhera but I just want you to know that people do not choose to have a mental illness.  You shouldn't make fun of them like this. Please apologise to all the people currently battling with a mental illness." 
「メンヘラって差別用語だよ」
"The term menhera is derogatory."
「メンヘラみたいって何?バカにしてんの!?貴女のような立場の方は
言葉選びに慎重にならなきゃいけないことが解りませんか?」
"Like a menhera? Are you making fun of mental patients? Someone in your position should be more careful with the statements they make." 
Should be interesting to see how she responds to all of this. On standby for more tweets.