As I posted earlier in the week LINE has been in the center of a few problems in Japan lately. But despite this the service is EXTREMELY popular and I personally can vouch for how useful and easy-to-use the application itself is. Apparently as of 7/21, LINE has topped 200 million users. The service was first opened on 6/23/2011, and thing started slow but wow did they pick up fast. 200 million!? They must be making alotttttttt of money. Especially with the amount of Japanese people I know who spend actual money on LINE stamps(money for pixels!? c'mon guys). Anyway in commemoration of topping 200 million users, you can now get limited edition "Lovey Dovey" stamps  Brown the Bear and Coney the rabbit(I guess they're basically LINE's mascots?). Hit the jump for some photos of the stamps and a chart showing LINE's user increase over the last 2 years.

So on 1/18/2013 LINE topped 100 million users, then in 30/4/2013 150 million users. Users pretty much doubled in half year from 100 million to 200 million. So fast! Anyway below is a pretty chart showing this: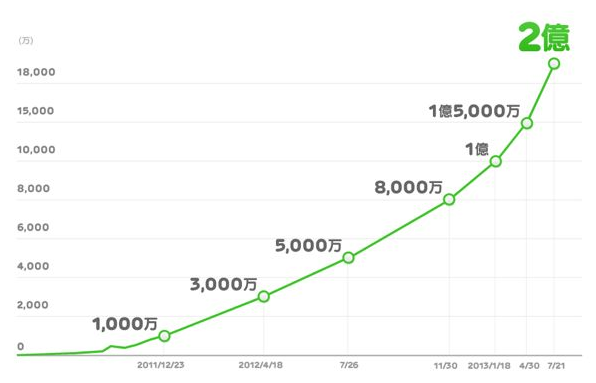 And of course, the limited edition stamps of Brown and Coney. These have been brought out in commemoration of LINE topping 200 million users and you can grab them for free until 7/24/2013 at 12pm. Hey wait a minute, that's today! Better get downloading!